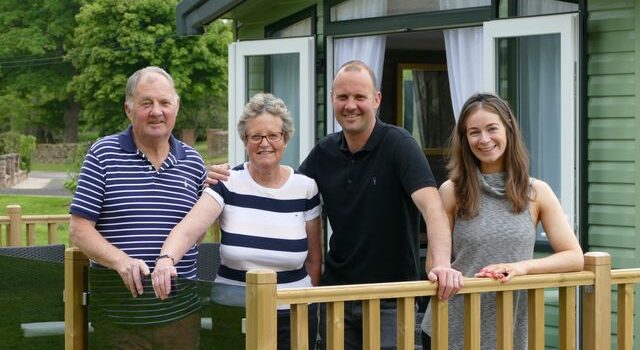 New static Caravan Park launches in Eden
New caravan park launches in Eden with the arrival of first caravans. Numerous camping and temporary caravan sites have popped up in the last 12 months to entice the 2021 staycation visitors to Cumbria. One young farming couple from the Eden Valley, had their eye on developing their new static caravan park long before Covid-19 arrived and have just launched their site in time for summer.
Gavin and Anya Bell from Langton Field Farm, Appleby, were celebrating the completion of their new 12 berth static caravan site earlier this month, when their first potential customers called in to take a tour. Within three days of their first live social media video, the first plots were reserved.
Gavin had his eye on a few acres close to the farmhouse and buildings that would create the perfect location for a small community of static caravans.  Three years in the planning – his dream of developing an additional income stream for the family has become reality as they launch 12 static caravan plots.
Langton Field Caravan Park nestles between the popular Lake District and the rambling Pennine hills, with nothing to spoil the views to High Cup Nick and Murton Pike.  Tranquillity and 360-degree uninterrupted vistas create the perfect get-away from it all feeling – whilst just 2 minutes down the road is the bustling market town of Appleby with its local food producers, independent shops, restaurants, and even a SPA hotel for weary 'soles' after a day on the fells.
Like many family farms, the Bells recognised the need to introduce additional income streams and chose to share their exceptional landscape views with a select number of families wanting a peaceful get away from it all holiday home.
Gavin said "We've spoken to static caravan suppliers and know demand is outstripping supply at the moment, so we were very fortunate to be able to get a superb 2-bedroom, 2-bathroom caravan in time for the summer season, with another on order for late summer. We commissioned good quality, wrap around decking with glass frontage that wouldn't spoil the views and have been busy planting grass seeds and apple trees to start our new orchard. By the autumn,  we hope it will all be bearing fruit.
"When we began our marketing campaign – we set our sights on selling a number of plots and our first caravan in the first year. Within the first two weeks, we've had a lot of interest with numerous people registering an interest and one or two reserving their favourite pitches already.
"But what we're really looking forward to is meeting the family who buy our first new caravan. It could be anyone, and the family has been speculating who they will be – we expect they'll love walking, the Lakes, and the fells, but it could equally be a family just looking for somewhere to relax and unwind. Whoever they are, they will be welcomed into the Langton Field family."
For more information about one of the newest static caravan sites in Eden, Cumbria with pitches and caravans for sale, contact Gavin Bell on 07968 760375